5 min read
BETTER IMPACT BOOK BITES: Transforming Disruption to Impact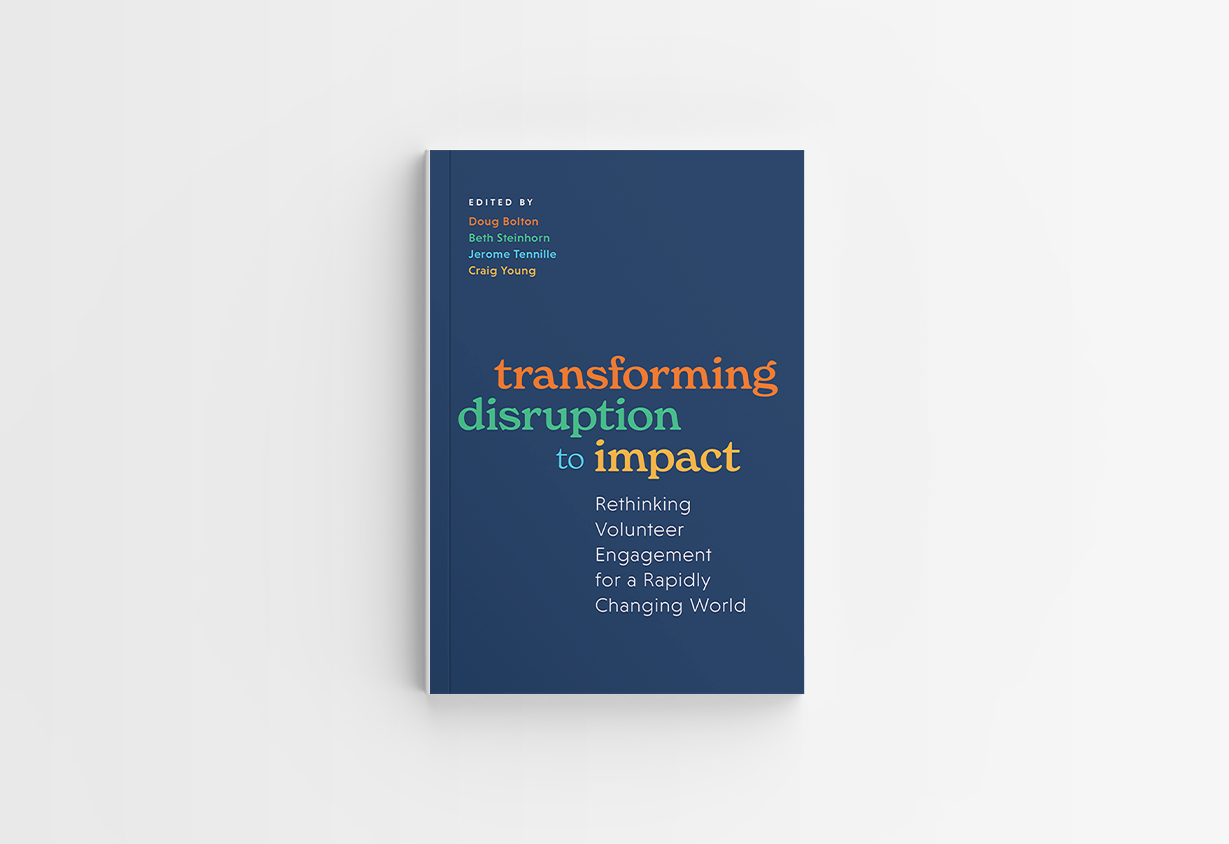 This Month's Selection
Transforming Disruption to Impact: Rethinking Volunteer Engagement for a Rapidly Changing World
Edited by Doug Bolton, Beth Steinhorn, Jerome Tennille, and Craig Young

The tenth in a series of Better Impact Book Bites
A taste of great books worth consuming.
---
Book Background Information
Why This Book:
It is all the rage right now. I can't go a few moments without the book showing up in my LinkedIn feed, someone recommending the book or someone telling me they are reading it. It has sparked many a book club and community of practice (COP) conversation. Additionally, it is a great catalyst to encourage rethinking, dare I say revisioning, engagement.
The collection of authors runs the gamut of voices from the likes of Natalye Paquin, the former CEO of Points of Light, to people not as widely known, yet whose voices and impact are no less powerful and deserve to be heard. It includes perspectives from various industries, large and small organizations and people with varying titles, backgrounds, and experiences.
You Should Read This Book If:
You are interested in hearing about something new and different from varied voices in the world of volunteerism
You work in For-Profit Corporate Social Responsibility (CSR) and want to make more impact in your community
You are a volunteer engagement professional and want to improve your program
You work in a faith-based organization and would like help with your volunteer program / ministry
If you work in Human Resources and are leading your team in DEAI efforts
If you work for an NGO
If you work in nonprofit
If you work in consulting
If you are a volunteer who wants to make a more meaningful impact in your community
Who Should You Gift This Book To:
Yourself
Volunteer Engagement Leaders
Your HR Manager
Your Corporate Social Responsibility leader at your place of employment
Your VP of Development
Your Director of Corporate Partnerships
Your Pastor, Rabbi, Pandit, Imam or similar leader
Section 1: Landscape of Disruption
This first section contains five articles and provides a framework for rethinking volunteerism in general. It highlights how addressing bias of all kinds can lead to unimaginable favorable impact.
Section titles are as follows:
Time of Crisis: Leadership for Volunteering and Community Resilience – Nichole Cirillo and Wendy Osborne
Connecting Volunteers to Organizations: Learnings from the COVID-19 Pandemic – Laura Plato
Racial Equity in Volunteerism – Wendy Vang-Roberts
Co-Generational Service: A Disruption to Increase Impact – Phyllis N. Segal
Moving Beyond Transactional Volunteerism to Transformational Civic Engagement – Natalye Pacquin
Section 2: Rethinking Strategy
This section comprises six articles and includes topics that explore the evolution of corporate volunteer engagement, identify what funders look for when backing volunteer programs and the vital importance of informal volunteerism.
I really enjoyed this section because it brings to the forefront topics we rarely hear about at conferences and webinars. Additionally, it tied together perfectly with some suggestions made in the Strategic Foresight Podcast Episode. I hope this section is the spark to hearing more on these topics in the future.
Section titles are as follows:
Evolution of Corporate Volunteer Engagement – Jerome Tennille
Why We Invest in Volunteerism: A Funder's Perspective – Rita Cohen
All Together: Volunteers and Staff Pull in the Same Direction to Achieve Results – Lauren Spero and Cyndi Zagieboylo
Disruptions Move Skills-Based Volunteering into Mainstream – Danielle Holly
The Power of Informal Volunteerism – Karmit Bulman
Volunteering as a Mechanism to Develop Empathy – Chris Jarvis and Angela Parker
Section 3: Rethinking Engagement
This section hosts five articles, one of which (for me) was one of the most powerful articles in the entire book.
The voice of those on the receiving end of Service Days and the strain they can create for organizations is finally heard. I hope anyone who reads this article won't stop considering Service Days, but as the section title suggests, will think about approaching them differently. Service days, when done with meaningful intention, can have valuable impact as Traci Blu, CVA shares on a recent podcast episode, Monetize Your Volunteer Program.
Section titles are as follows:
Service Days: Changing the Conversation – Beth Steinhorn and Jerome Tennille
Technology and Services are Poised to Create WIDER Nonprofits – Doug Bolton
Students Self-Organize for Impact – Amay Aggarwal and Mary Zhu
The Mentoring Field: A Lesson in Persistence and Evolution – Elizabeth Santiago, PhD, and David Shapiro
Redefining Community in a Hybrid World – Beth Steinhorn
Section 4: Rethinking Impact
This section contains three articles and aims to get you thinking differently about impact.
Quantitative results are important, but they don't tell the whole story. Dare I say, they don't even tell the most important story (quite frankly the reason corporate social responsibility and non-profits exist in the first place); how we are making a difference in our communities.
This section touches on two of my all-time favorite subjects; mentoring and accountability. It encourages us to hold a mirror up to our programs to detect the weak areas and offers suggestions on how to fortify them.
Section titles include:
Purpose-Driven Volunteer Impact – Sue Carter Kahl, PhD
The Multifaceted Impacts of Service – Kaira Esgate
Disruption Exposed Our Lack of Infrastructure: It's Time to Build It – Craig Young
The Last Bite
I had an opportunity to sit down with Jerome Tennille, one of the four editors, on a recent "From The Suggestion Box" podcast episode. We talked not only about the book content, but what it takes to put a project like this together. You can view/listen to it here.
I have heard feedback from readers that the book can feel a bit disjointed, and I can see their point. I believe it is because when most of us pick up a book, we are expecting a story that moves seamlessly through chapters. This book does that too, but in a different way.
My suggestion is when you pick up this book, approach it not as one story, but many different examples of stories presented to illustrate and address many different facets of the overall theme of the book.
Think of it as a salad; each article bringing its own flavor to the overall purpose of the book. In a salad, the overall purpose is for the health of our physical bodies. For this book, each submission is for the overall health of volunteer engagement.
Enjoy!
Other Related Links
Subscribe to our Newsletter to get the latest blog updates
Related Articles
Search
Upcoming Events