5 min read
Corporate Volunteering: How Your Nonprofit Can Benefit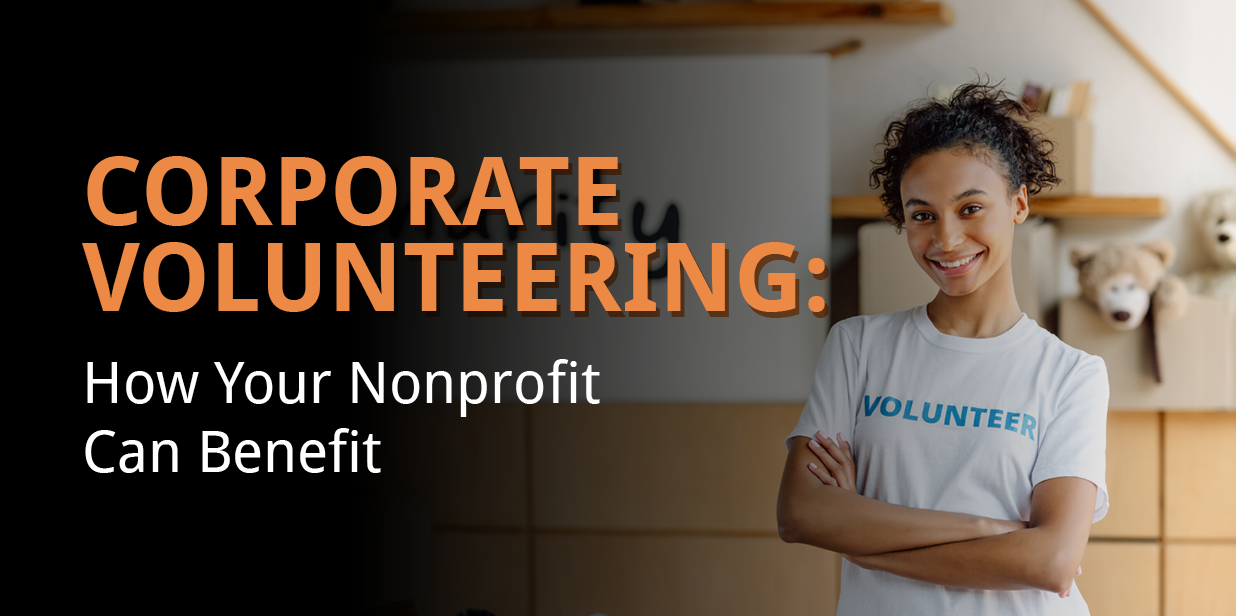 As a nonprofit professional, you understand how important your volunteer base is to achieving your organization's mission. Volunteers provide their time, energy and passion in exchange for seeing your mission grow. Your organization likely already has a dedicated volunteer network, but have you considered taking your volunteer base to the next level by tapping into corporate volunteering?
A corporate volunteer program is a partnership between a company and a nonprofit in which the company's employees work towards improving the community. Corporate volunteers can provide an extra leg-up in running your programs, streamlining your marketing strategies and meeting your most pressing needs, allowing your nonprofit to achieve its goals quickly and more efficiently.

With a strong framework in place, corporate volunteers can take your organization to new heights. In this guide, we'll take a closer look at the major benefits of setting up a corporate volunteering program, including:
Access to a skilled volunteer base
Expanded visibility
Increase in donations
Potential for a more expansive partnership
When looking for a corporate partner, make sure the business aligns with your nonprofit's values and is passionate about your goals. This will translate into positive, productive corporate volunteer relationships that you can count on year-round. With that in mind, let's explore the major benefits of a well-designed corporate volunteering program.
Access to a skilled volunteer base
Corporate volunteers bring a specialized skill set from their working backgrounds into their volunteer roles. This can help your nonprofit in a variety of ways, from supporting your fundraising efforts to bolstering your marketing strategy.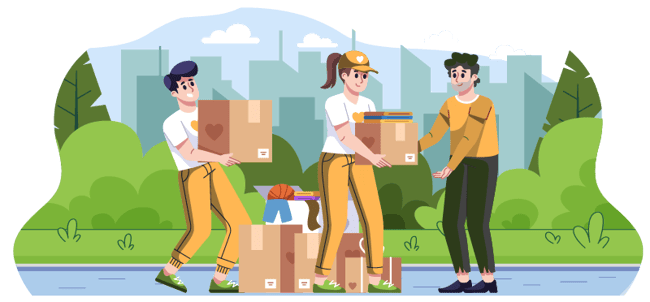 For example, let's say your organization decides to partner with a graphic design company. Corporate volunteers from this company can support your organization by designing engaging marketing materials for email campaigns, social media and your nonprofit's website. With their expertise, they can help you form a cohesive strategy that stays true to your brand and allows you to expand your reach online, bringing in more donations.
In turn, your organization is able to save time and resources that would otherwise go into hiring a new staff member or training volunteers from your traditional volunteer program to learn these new skills. If there's a particular niche your nonprofit needs added support in and would benefit from skilled volunteers, use this as a guiding force when looking for a corporate partner.
Expanded visibility
When volunteers work at your nonprofit, they become passionate proponents of your cause and are likely to spread the word about your organization among their friends, family members and other individuals in their personal networks. The same can be said for your corporate volunteers.
As your organization expands its volunteer network to employees at a company, you'll grow your visibility among all workers, from senior executives to team members working in all different types of departments. In turn, they'll help expose your organization to their client base, other professionals in their network that can lend a hand and individuals in their personal networks that would be eager to support your cause.
Plus, your corporate partner will likely add your nonprofit to its website, social media channels and other marketing materials in an effort to establish itself as a socially-conscious brand. This can provide a number of benefits for your organization, allowing you to reach more prospective supporters than ever before and bring attention to your important programs, events and fundraising campaigns.
Increase in donations
Many corporate partners will double their impact by offering donations to your organization on top of volunteer hours. For example, a corporate partner might give the following types of support:
Matching gifts.

When an employee gives to your organization, your corporate partner can offer to match their contribution, increasing the donation amount that you receive. Matching gifts also incentivize volunteers to give (and give in larger amounts) to your organization. According to fundraising statistics from Double the Donation, 84% of donors reported a higher likelihood of donating if a match is offered. Work with your corporate partner to ask if they have a matching gift system in place, and if not, express the benefits of establishing one, such as increasing their positive impact on the community and bolstering their reputation as a philanthropic company.
Volunteer grants. Through corporate volunteer grants, companies will provide a monetary amount for a set amount of hours that an employee volunteers at your organization. This is essentially "free money" for your nonprofit, allowing you to benefit from volunteer time and donations to power your mission.
Sponsorships. In addition to providing volunteers to help support your programs or activities, your corporate partner can also offer to financially cover overhead costs so your nonprofit can drive a greater profit. In exchange, your nonprofit can highlight your corporate partner in the program's marketing materials, creating positive publicity for the company. You can also offer your corporate partners sponsorship packages for fundraising events.
To further encourage volunteering, your corporate partner could also offer volunteer time off (VTO). Volunteer time off gives employees a break from work and allows them to engage more deeply with your organization. If your corporate partner offers volunteer grants along with VTO, this gives your nonprofit a great opportunity to bring in even more funding.
Potential for a more expansive partnership
As you kickstart a corporate volunteering program, your corporate partner may offer other ways they can increase their impact. For example, a company can extend their support through supplying in-kind donations like equipment or marketing your organization through their own promotional campaigns and communications.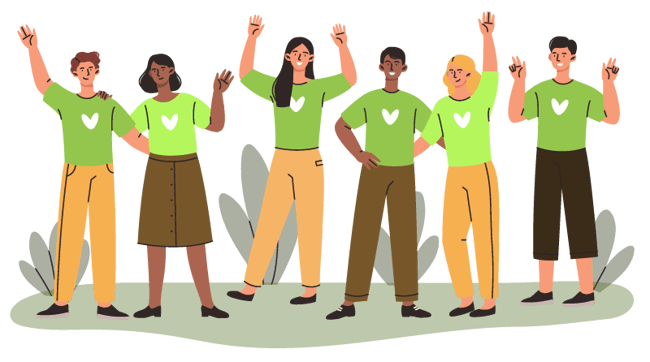 To set your partnership up for success and promote its health over the long-term, keep the following tips in mind:
Identify clear goals. The goals for your partnership should follow the SMART model (specific, measurable, achievable, relevant and time-bound). This way, you'll know exactly what your organization is working towards and your corporate partner will have a clear understanding of their role in advancing your nonprofit's mission.
Create open lines of communications. Regularly communicate your needs with your corporate partner and different ways they can support your organization. This will also help to keep your partner accountable and on track in accomplishing their tasks, such as completing a certain number of volunteer hours by the end of each month.
Assess progress. Track data metrics and determine whether your corporate partnership is providing value. This way, you can identify any areas of improvement and work with your corporate partner to make your partnership more successful.
With a clear strategic plan, both your nonprofit and its partner will be satisfied, allowing both parties to reap the benefits for years to come.
Corporate volunteering can make a significant impact on your nonprofit's ability to meet its goals. If you're wondering how to naturally fit corporate volunteering into your plans, work with a consultant. According to Aly Sterling Philanthropy, an outside expert can take a deep dive into your organization and determine how to best structure your corporate volunteering program, ensuring that it aligns with your values and goals. Backed by a nonprofit consultant, you can design a winning corporate volunteer program. Good luck!
Subscribe to our Newsletter to get the latest blog updates
Related Articles
Search
Upcoming Events